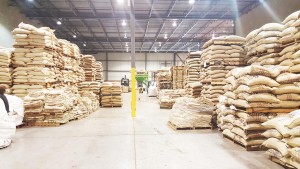 Philburn is not only a full-service logistics transport company, but warehousing has become a major part of our business at our Mississauga facility. As a warehousing company in Ontario, we offer our customers a multitude of storage options with advanced warehousing technology to maintain efficiency and organization.
Why Choose Our Warehouse for Your Product?
Advanced WMS System
With a facility of our size it was important to invest in a fully functional, state-of-the-art warehouse management system (WMS). Our software, the RF Pathways Management System, is able to provide our customers with up-to-the-minute inventory reports organized by specific products, all products, or date received, along with many other options. We are able to track and direct to a specific warehouse location for any product stored in our facility. Each product is assigned a specific barcode upon receipt in the warehouse and scanned into specific locations so that it may be picked and packed efficiently and with great accuracy. Since its introduction, the software in our facility, and the employees administering it, has had an accuracy rate well above 99%.
Wide Range of Product Storage
Offering product warehousing at Philburn, we store a wide variety of products for our customers, from raw coffee beans to electronic parts. Due to the various different products in the warehouse, having the ability to locate a specific item at the touch of a button allows Philburn to be extremely efficient and able to satisfy customer needs at a moment's notice.
Affordable
As we are a full-service warehousing company in Mississauga, using Philburn as an outsourced means of storage can lead to significant cost savings for your company. We'll actually help show your savings by preparing a cost/benefit analysis and provide storage solutions that will work best for your business.
Storage Space
For everything from coffee beans to electronics, Philburn provides a variety of storage options. Our warehouse is large enough and we have the right technology to make storing products with us simple and reliable. And warehousing in Mississauga means we are in close proximity to the airport, which is just 15 minutes away.
Flexible
Philburn gives customers the flexibility to scale services as needed from month to month or season to season. We understand demands change, and we make sure we allow our customers the leverage to feel comfortable that they can continue to utilize our storage services throughout those periods.
Safe, Secure, and Clean Warehouse in Mississauga
We at Philburn are extremely proud of the safe, secure, and clean environment we provide all our customers, and we are always willing to adjust to suit the needs of our current customers and potential new customers with specific requirements.
Warehousing Services We Offer
Certified Weighing
Accurate weight on your freight is crucial to determining the cost. Philburn is able to gather accurate weight measurements so customers never pay a dollar more than they're supposed to.
Pick-and-Pack
Having large warehouses means we store plenty of products. But with an experienced team and cutting-edge warehouse management technology, we at Philburn are able to pick and pack items with speed and accuracy.
Reconditioning of Green Coffee Beans
Sometimes when coffee is brought to our warehouse it can arrive damaged, whether it is water damaged, has stains on the bags or the bags are torn. If this is the case, we re-bag the damaged product so that it can be resold on its own. It could be an exact bag-to-bag transfer or it could be a collection of beans and a mix of bags that are sold by the owners.
Multi-tier Storage
We allow our customers to maximize our storage space by offering multi-tiered storage options. We can essentially create a ground-floor layout for each tier allowing for optimal storage solutions. This is just another way Philburn works harder to give customers more.

Warehousing FAQ
1.Where is your warehouse?
Philburn has two main terminals: one in Mississauga, Ontario (Corporate Headquarters) and one in Moncton, New Brunswick. Our 100,000-sq. ft., 15 door Mississauga terminal is located at 2501 Stanfield Road, Mississauga, ON. Our 15,000-sq. ft., 10 door Moncton facility is conveniently located at 714 Malenfant Blvd., Dieppe, NB
2.How are the goods stored?
Each item in our facility is assigned a specific barcode and scanned into a specific location. Kept in a clean, temperature-controlled environment, pallets may be stored on pallet shelves while smaller boxes and items can be placed on small item shelves.