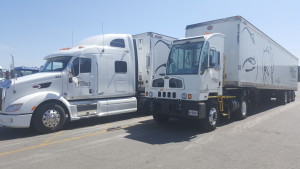 Transporting products across Canada and the U.S. is a tall order for any transport company. More than anything, customers need to know they can rely on Philburn to deliver every single time they place an order. That means we must be consistent, efficient, and offer clear and honest communication each step of the way.
To achieve this, we at Philburn utilize state-of-the-art technology to keep us organized internally and to keep our customers connected to their deliveries. We combine this with a high level of customer service, and experienced drivers and staff to provide a complete and transparent shipping experience not matched by any other shipping company in Ontario.
Our Transportation Services in Ontario
Offering services as a trucking company is what we do. Providing both less-than-truckload (LTL) and truckload (TL) services gives our customers more transport options for how their product is to be delivered. We also offer more specialized transportation and trucking services depending on the requirements of your load.
LTL (Less-than-Truckload) Shipping
We at Philburn give our customers the option of LTL services. Though we are both an LTL trucking company and a TL trucking company, we realize that having both options makes our services more accessible to our clients. We still guarantee our service in either aspect of shipping, and we work just as hard to make sure your products are delivered on time.
TL (Truckload) Shipping
Our position as a top full-load trucking company in Ontario means that we transport full truckloads from Ontario to Atlantic Canada. We have a full fleet of trucks with experienced drivers to securely handle the load and transport full deliveries on time.
Freight
As a top freight company in Ontario, we feel that it's important for clients to know the exact location of their freight at all times. Philburn's technology accommodates clients by connecting them, in real time, with the location of their freight. It's simple, accurate, and gives clients confidence that their product will be delivered on time.
Shipping
From Mississauga to Moncton, Philburn has terminals in both of these locations to facilitate transport from Ontario to Atlantic Canada. Clients count on us for both local and long-range shipments, and we deliver. We're able to transport a variety of products, including food or other items with unique storage and travelling specifications.
Why Choose Our Transportation Services?
Flexible Pricing and Loading Options
Flexible pricing and loading options are a big part of what we provide to our customers here at Philburn. We want our customers to know that we offer several pricing and loading options that match their needs and budgets. From the moment you engage with Philburn, you will know of all available options with no hidden or surprise costs, all while finding a transportation solution that works best for you. And when it comes to load, delivery speed, and quality of service, Philburn is prepared to exceed what you expect from your transportation partner.
Terminals in Moncton and Mississauga
Philburn has two terminals, located in Moncton and Mississauga, and both of these terminals aim to service clients from Ontario through to the Atlantic Provinces. Our presence has always been strong in both of these locations, and our terminals act as a hub for the services we provide.
Strong Transport Network
It takes a full team to fulfil our customer's shipping needs. That takes strong connections within our industry to get you the best shipping prices and service possible. At Philburn, we've established those relationships and have earned a reputation as a trusted transport company.
Experienced Transport Company in Ontario, Canada
Experience is a must in logistics. Setting up the right logistical system specific to each client, understanding how to respond to obstacles en route, and working with contemporary technology is what we expect from our team.