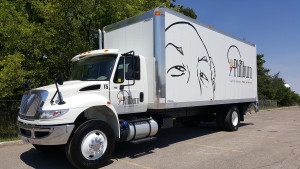 At Philburn, distribution means much more than just delivering a package from point A to point B. We work to ensure customers receive the right package on time and in sound condition. Philburn has the perfect combination of experience and sophisticated software, allowing everyone to stay connected at all points throughout the distribution process.
Distribution Tracking
Philburn has software that enables our customers to track their delivery from the moment they place an order to the time it reaches their location—and do it in real time. Our terminal also acts as a full-service warehouse pickup and distribution centre for both less-than-truckload (LTL) and truckload (TL) shipments. So, there will be no more guessing where your shipment is or when it will arrive.
Distribution across Ontario
Though we are a shipping distribution company based in Toronto, we've expanded our distribution services across the entire province. This means we interact with customers on an ongoing basis, ensuring they are confident their products will arrive at its correct destination, within the scheduled time frame and without any damages. We continue to push our shipping distribution in Ontario to its limits and expand on our services throughout the province.
Dedication Shipment Distribution Team
Distribution is a major part of customer service, and Philburn has a dedicated team, with many staff members having been with the company for an extended period of time. They know how to manage situations on the fly, and what to do to prevent situations before they develop.
The Benefits of Philburn Distribution
Scaling
Your company is constantly growing and adapting to new demands. Seasonal changes or the challenges of entering new markets are all factors that impact your shipping. With Philburn, your business can scale as needed without incurring any overbearing costs.
Experienced Team and Improved Services
Distribution is often not the main area of expertise for the majority of business owners. This immediately presents issues as a considerable amount of knowledge and networking is needed in order to create a cohesive logistics system. Philburn already has all of those parts in place. We have an experienced team and will adjust our logistics systems to match the specific needs of your company.
Solution-Based Services
Without the right experience and technology, small businesses can run into countless barriers when it comes to finding solutions for their distribution needs. What Philburn brings is the team and the technology that is ready to meet the demands of your customers today and keep up with those demands in the future.
Minimal Capital Expenditure
The costs associated with purchasing a warehouse, staffing it, and putting in place a dynamic management system can be off-putting for many small- or even mid-sized businesses. Outsourcing those costs and partnering with a shipping distribution company in Toronto like Philburn means you save big on capital expenditure. You also get the benefit of not having to worry about running a warehouse and the rest of the logistics operations, which means much more capital can be put to other avenues to grow your business.
More Focus on Core Operations
You got into business to pursue your passion. Logistics is a necessary part of what you need to do, but your effort and energy needs to be where it is best suited. As a top distribution company in Ontario, Philburn is equipped to handle the everyday challenges of logistics.
Improved Systems Performance
The systems used by Philburn are specifically designed for logistics services. We understand how to use technology to incorporate these systems in order to achieve the best results. By outsourcing your logistics services to Philburn, customers are guaranteed a team of professionals who will use their knowledge to provide the very best value possible.
Areas We Serve
Philburn services the GTA and the surrounding areas, as well as Atlantic Canada.
SHIPPING AND DISTRIBUTION FAQ
1. Where is your distribution centre located?
Our distribution centre is conveniently located in Mississauga. Our location makes shipping to Atlantic Canada from Ontario fast and easy.
2. How can I contact your distribution centre?
You can contact our distribution centre be telephone at (416) 798-9956, or by e-mail at customerservice@philburn.com