company profile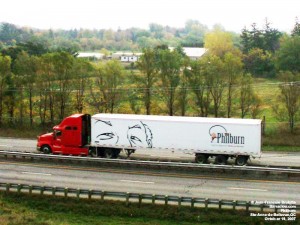 Philburn Inc. was incorporated in 1993. As an active member of the Universal Group of Companies (1993–2004), it quickly expanded to include all aspects of logistics, warehousing, distribution, and transportation. Philburn continues to evolve and is currently expanding its transportation activities, both less than truckload (LTL) and truckload (TL), to and from all destinations in Canada and the United States while focusing on our core business to all of the Atlantic Provinces, including Newfoundland and Labrador.
Philburn has created an environment where our customers feel confident they can depend on all of our services. Whether it's storing a wide variety of products in one of our warehouses, tracking products through the use of our sophisticated software, or delivering the right products on time and in one piece, our customers know we can be trusted.

Our Commitment
From the beginning, the Philburn team identified the need to invest in reliable, state-of-the-art logistics trailers. This investment provided assurances to our customers that all shipments were handled with complete care, arriving at their final destination undamaged. Our mission is to satisfy all customer requirements, no matter how small, and to provide the best service experience every time.
Fulfilling this commitment means always assessing our processes, listening to customer feedback, and making adjustments as necessary to ensure we are consistently meeting the demands of our customers. We have the team in place to deliver on these commitments and continue to improve each day.

Our Locations
Philburn has two main terminals: one in Mississauga, Ontario (Corporate Headquarters) and one in Moncton, New Brunswick.
Our 100,000 square foot Mississauga terminal is a full-service pickup and distribution operation for LTL and TL shipments, warehousing and consolidation of freights headed to and from the Atlantic Provinces.
Our 15,000 square foot Moncton facility is a full-service pickup and distribution terminal, conveniently located in the central hub of the Maritimes, and handles all of Philburns' Atlantic LTL and TL services.